One of the most surprising things about the pandemic was how good we all got at spending time with each other without actually being together. With the proper planning, a virtual party can be a fantastic way to get closer to your coworkers, even when you are on different continents. Here are nine killer virtual holiday party ideas that will get your creativity going.

Virtual Murder Mystery Parties
Nothing goes better with Christmas cheer than a little fear. A zoom murder mystery party is fun for team members to get together and build relationships. Not only will your team be entertained, but they'll also work together to solve a crime. There are endless plots and themes to choose from, and live actors serve as guides to bring the story to life and keep the excitement going.
A virtual murder mystery party is just how it sounds – team members play different characters, and one of them will be the murderer. If you want to ensure your party is perfect, our expert murder mystery party planners will help. We take care of all the details, so all you have to do is sit back and enjoy the show. Reach out today to set up your virtual murder mystery holiday party!
Guess Who: Baby Picture Edition
Guess Who is a great way to get everyone laughing and mingling. Have each person submit a baby picture of themselves in advance of the party. Then, during the party, put all the pictures up on a screen or whiteboard. Give everyone a minute to look at all the pictures and write down who they think is who. Then, have everyone share their guesses one by one.
Virtual Trivia Gameshow
Let the virtual holiday party games begin! Trivia game shows are good for both introverts and extroverts, and they can be adjusted to be as challenging or as easy as you want them to be. There are a bunch of different formats to choose from, so you can tailor the game to your team's interests.
For example, you could do a rapid-fire format with a live host, a la Jeopardy, or a more relaxed format where teams get together and come up with an answer like Family Feud. You could also do a themed trivia game, like Harry Potter or The Office. No matter what format you choose, make sure to add fun prizes for the winners!
Secret Santa
One great way to add holiday cheer to your virtual office party is to do a Secret Santa gift exchange! You can use an app like Elfster to set up your exchange and have everyone draw names submit their wish lists, and send out their gifts through the mail so they're ready to open on the day of the party. To make it even more fun, have a contest for who got the best gift!
Holiday Musical Bingo
What better way to get into the holiday spirit than by playing some holiday-themed musical bingo? Try offering prizes for the winners! Here's how it works: each person gets a bingo card with song titles on it. As holiday songs play, people mark off the songs that they hear. The first person to get five in a row wins!
Improv Comedy and Cocktails
Hire a comedian to add some laughter and levity to your team's next virtual holiday gathering. More comedians started using zoom as a way to connect with their fans since the pandemic caused so many comedy clubs to shut down, and many talented zoom comedians can do an amazing job of keeping your guests entertained. Your team will have fun yelling out suggestions and laughing along with the comedian. Check out businesses like The Comedian Company for more details.
Holiday Superlative Games
Superlative games are questions that ask people to rate things in order from best to worst. You are probably familiar with ones from high school, like, "who is most likely to succeed?" or "who has the best hair?" Make a list, ask everyone to vote, and check it twice before you reveal the results. Add a blank category so people can make their own creative awards so you can read them off at the end.
Here are some fun superlatives you can use to get your virtual holiday party started:
Most naughty or nice
Most likely to open presents early
Most likely to return a gift
Best gift-giver
Biggest scrooge
Most likely to sing Christmas carols off key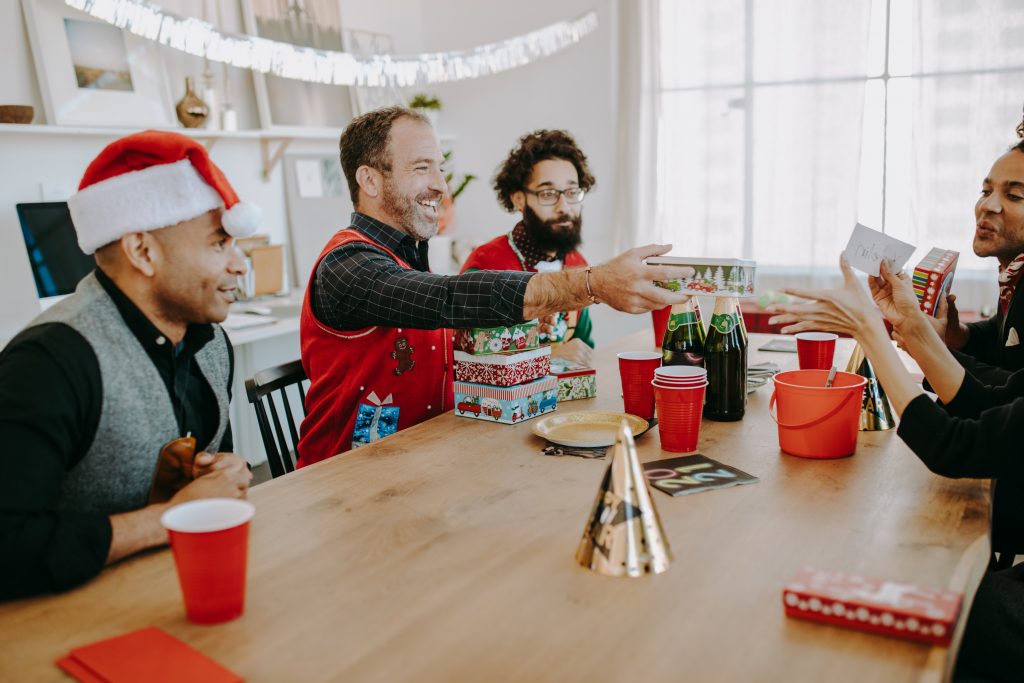 Holiday Paint and Sip or Craft and Sip
If you're looking for a fun way to celebrate the holidays with your team, consider creating a custom virtual paint-and-sip party. Another way to go is to host a craft and sip party. Combine arts and crafts with some tasty beverages, and no, it doesn't need to be alcoholic! This is a great way to get everyone involved in making holiday decorations or gifts. Below are some ideas to get you started.
Recreate classic paintings
Channel your inner child and paint a snowman
Have a wreathe-making party
Create unique Christmas decorations
Personalized ornaments
Build gingerbread houses